Latest news from 5th and 6th Class along with their teacher, Mrs Gough.
Fifth and Sixth Class 2022-2023
Friday 16th December 2022
Secret Santa
Some of our Christmas Decorations that we constructed.
Our Christmas Baubles
Thursday 15th December 2022
Some photos from our performance of 'Silent Night'.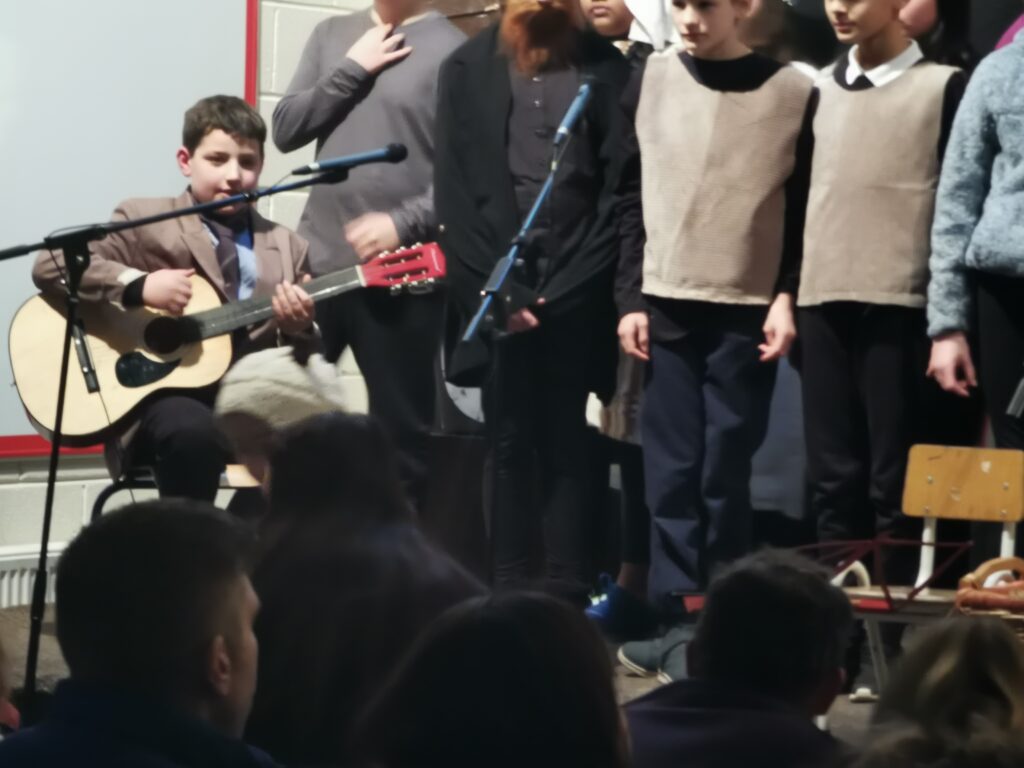 December 2022
Our classroom will be where the School Plays will be shown to friends and family, so we are busy decorating the room and hallway. We made Christmas Decorations and an Advent Calendar for our classroom.
We are learning about Rocks in Geography this month and created a fact file on one of the rocks. We learned that there are three types of rocks, Igneous, Sedimentary and Metamorphic.
November 2022
The children are enjoying doing Art, swimming, creating stories, helping in the classroom, using the Chromebooks and Golden Time each week. They are also enjoying rehearsing for the play 'Silent Night' and singing the songs. They are looking forward to performing it for everyone in December. By Paulina and Patryk 6th Class
A visit to St. Columba's Church
Friday 18th November 2022
Canon Brian has been visiting us every Friday in school. Today, he invited us to see his place of work. We had a look around the church and spoke about the beautiful stain-glass windows and the font.
There is a Remembrance Tree in the church and some of us decided to add some more names to the tree, of people who have passed that we are thinking of.
Science Experiment
September 2022
We learned all about fats in food and discussed visible and invisible fats. We placed various foods on parchment paper to see how much fat would be visible after 30 minutes. We were shocked by the results.
Hockey
In September. we learned how to play hockey.
Halloween 2022
Senior Room 2022
Tuesday 21st June 2022
5th and 6th Class boys went to the Community School today to play Basketball with 5th and 6th Class from Tullow Boys School.
Monday 20th June 2022
It is an annual tradition in St. Columba's N. S. for 6th class to paint their hands and print them on a wall in the school yard. It is a nice way for us all to remember them.
Thursday 16th June 2022
School Tour 2022
Thursday 9th June 2022
Today, Ms Ansell and the Sixth Class organised stations for the other children in the school. We love stations and Sixth Class also love mentoring the younger children.
Wednesday 8th June 2022
Today, for Active Week we went to St. Pat's G.A.A. pitch in Tullow. We played soccer and Rounders. It was great fun having so much space to play!
Tuesday 7th June 2022
This week is Active School's Week in St. Columba's N.S.. We kicked it off with a Dodgeball and Tag Rugby Blitz.
Thursday 2nd June 2022
Today we went to St. Pat's G.A.A club in Tullow with some other local schools for a G.A.A. blitz. Thank you to all of the organisers for a fantastic day. The children had great fun!
Wednesday 1st June 2022
This year, we have been playing lots of board games and constructing with Lego and K'Nex. Thank you to the school for buying us the K'nex and lego kits.
We decided to have a Draughts tournament in our classroom this month. It has only just begun and the competition is already getting intense.
Friday 13th May 2022
It is National Biscuit Day in the U.S.A tomorrow, so we decided to mark the day in school. Everyone brought in their favourites for the class to enjoy!🤤
Thursday 12th May 2022
We have been learning about the European Union in Geography over the last four weeks. Children researched a country in the European Union and created a project based on it. The children presented their projects to the class today.
Thursday 12th May 2022
4th, 5th and 6th Class photos taken today.
Tuesday 10th May 2022
Today, we had a Tag Rugby Blitz at Tullow Rugby Club. This was our first sporting event since COVID school closures in March 2020, so we really enjoyed mixing with children from the local schools. Thank you to all at Tullow Rugby Club for organising the event.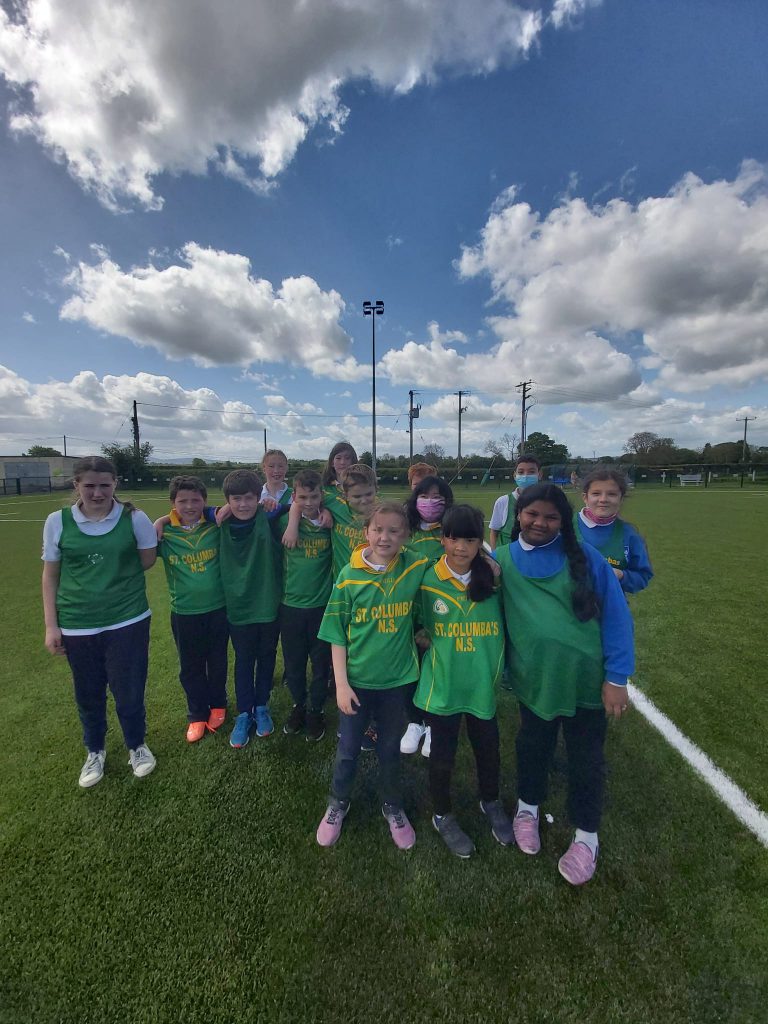 Tuesday 26th April 2022
Today, the children finished the 'I Am Rock' programme with Tullow School Completion. The programme is about mental resilience and how to help themselves when they feel worried or stressed. The children designed rocks, which have been displayed in the garden.
Friday 4th March 2022
Today, we went on a trip to Carlow I.T. for an Engineering Workshop for STEPS Engineering Week 2022.
We explored how cable cars work and then in small groups, designed and created a cable car using K'Nex. We had great fun and love being able to go on school trips again and meeting children from other schools. As an extra special treat, we went to McDonalds on the way back to school.
Wednesday 23rd February 2022
The children had an 'Ice cream Party' today as their reward for filling their sticker chart!
Wednesday 23rd February 2022
The children studied The Middle Ages in History this month. As past of their homework, they made a project on either Clothing or Caring for the Sick and how it has changed since The Middle Ages.
Tuesday 15th February 2022
Today was our final session of Tag Rugby. We had great fun finishing the session up with the tackle bags. Apologies for some very mucky uniforms going home today! 😂
Thursday 20th January 2022
Here is our WOW Wall. Children select their favourite piece of work/ achievement to place on this wall. Children can change their display piece as often as they like.
Thursday 20th January 2022
Our African Prints
This month in S.E.S.E we are studying Africa. Here are some of the African Prints we created in Art class.
Friday 14th January 2022
In Science this month, we are looking at Materials and Change. Today, we made biscuits. We studied the smell, colour, size, texture and temperature of them before, during and after baking.
Thursday 13th January 2022
Today, the children were set the task of figuring out if salt, flour, pepper and sugar dissolve in water. The children set up the experiment and ensured it was a fair test, using equal parts water and substance for each test. They also made sure the stir each solution the exact same number or times.
Tuesday 11th January 2022
Today we had our first session of Tag Rugby with our coach from Tullow Rugby Club!
Tuesday 21st December 2021
Monday 20th December 2021
We made Christmas Decorations from recycled materials this month.
Friday 10th December 2021
Our Christmas Art
Thursday 9th December 2021
Christmas PJ Day
Thursday 2nd December 2021
Today, we had a Biscuit Day. Each children brought in their family's favourite biscuit for the class to try. Children picked their favourite and least favourite biscuit. It was fun trying lots of different types of biscuits. We also did a Gluten Free taste test of Digestive Biscuits vs regular Digestive Biscuits.
Some children even brought in a flask of tea for the occasion!
Tuesday 23rd November 2021
In S.E.S.E this month, our theme was America. We have been learning about the Native Americans in History, Brazil in Geography and The Amazon Rainforest in Science. The children enjoyed doing projects on their favourite animal from the Amazon Rainforest.
Thursday 21st October 2021
Happy Halloween
Friday 17th September 2021
Some of our Artwork from September. We created moon paintings using paint and Autumnal trees using oil pastels and crayons.
Thursday 16th September 2021
In Science this month, we have been learning about Forces. Today, we explored Friction. We tested out the friction between car wheels and various other materials, to see how far the cars travel.
We learned that there was the most friction created with a carpet and the least with our Just Maps book.
Monday 13th September 2021
Our Mé Féin writing pieces.
Friday 10th September 2021
Our Class Photos