Latest news from 5th and 6th Class along with their teacher, Mrs Gough.
Fifth and Sixth Class 2022-2023
April 2023
September 2022

Friday 28th April 2023
Today we visited Tullow Library for a Comic Drawing Workshop. We had a Zoom call with Tomas from Lithuania, in the sister library of Tullow. He taught us about how to plan and draw a Comic Strip.

While at the library, we also participated in some activities for Carlow Arts Festival. The children planted seeds, took photos of the local area and wrote their thoughts and feelings on some questions.
Thursday 23rd March 2023
The children from 4th- 6th went to a Soccer Blitz in Ballon today. Well done to our two teams for trying their best and playing well through 5 games. The supporters did an amazing job cheering through the crazy weather conditions!


Friday 16th December 2022
Secret Santa
Some of our Christmas Decorations that we constructed.
Our Christmas Baubles
Thursday 15th December 2022
Some photos from our performance of 'Silent Night'.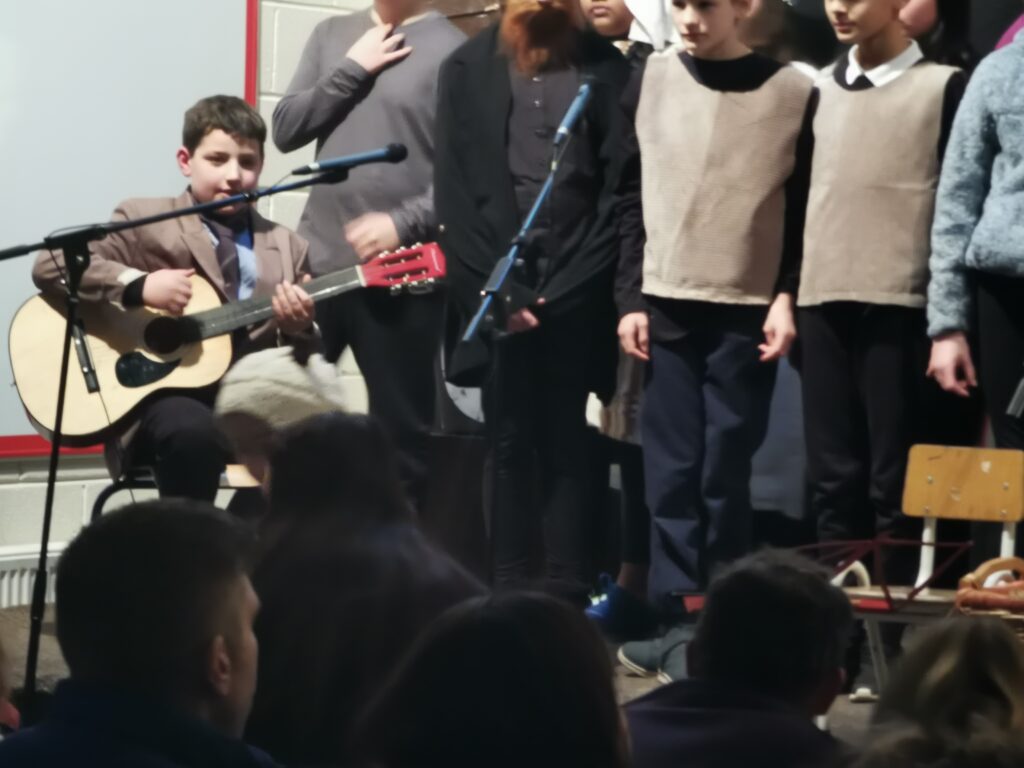 December 2022
Our classroom will be where the School Plays will be shown to friends and family, so we are busy decorating the room and hallway. We made Christmas Decorations and an Advent Calendar for our classroom.
We are learning about Rocks in Geography this month and created a fact file on one of the rocks. We learned that there are three types of rocks, Igneous, Sedimentary and Metamorphic.
November 2022
The children are enjoying doing Art, swimming, creating stories, helping in the classroom, using the Chromebooks and Golden Time each week. They are also enjoying rehearsing for the play 'Silent Night' and singing the songs. They are looking forward to performing it for everyone in December. By Paulina and Patryk 6th Class
A visit to St. Columba's Church
Friday 18th November 2022
Canon Brian has been visiting us every Friday in school. Today, he invited us to see his place of work. We had a look around the church and spoke about the beautiful stain-glass windows and the font.
There is a Remembrance Tree in the church and some of us decided to add some more names to the tree, of people who have passed that we are thinking of.